"All things oooordinaaaary"
|current sounds|
For some reason, I've been listening to whatever
emo
songs I could find online all day. There's no accounting for taste.
Today's heart-on-sleeve-for-no-good-reason-other-than-nostalgia mix:
And You Will Know Us By the Trail of Dead "Source Tags & Codes"
Jets to Brazil "I Typed For Miles"
Mineral "Gloria"
Rainer Maria "Tinfoil"
The Anniversary "All Things Ordinary"
The Promise Ring "Why Did We Ever Meet"
Cap'n Jazz "Little League"
Braid "There Is A Light That Never Goes Out" (Smiths cover)
Cursive "The Radiator Hums"
Sunny Day Real Estate "In Circles"
I've been a neglectful blogger. And every time I do write, it's about a concert. Well, at least y'all know I'm being entertained. Next week you can expect to see an equal amounts of updates as I will be taking on my Music Director duties for Intern Edition. I lost my reporter for the IE piece I was producing, so picking out appropriate segue-way music for the program will certainly make up for the time spent in front of a computer editing audio.
Now for the concerts.
THURSDAY
For some reason, Emilia (Audience and Corporate Research intern) and I have never hung out in the same circles, so she suggested we go to
Fort Reno
for a free punk rock show.
I get really excited about community-driven DIY (Do It Yourself) projects like the Fort Reno Park summer concert series, which the Tenleytown area seems to really support. I can't say the same of Athens, Georgia's government, which for the most part chooses to overlook DIY venues, but isn't afraid to slap an eviction notice when more affluent development comes around (RIP Tite Pockets).
The Engine Room
, a local female-fronted band made of high schoolers, opened. For what they were, it wasn't bad. Kinda reminded me of Ted Leo & the Pharmacists in the guitar work, though they ran the gamut of trendy indie music including a disco-punk-ish number. The bass player was the stereotype of the high school band musician: ripped jeans, shaggy haircut, slumped over, but instead of a Nirvana t-shirt, he sported Mission of Burma.
As I later explained to Emilia, Heather, and Jacob (the latter two library interns who joined us later), my roots will always be in punk rock (and metal for that matter). Some of my best college memories were spent in crowded house shows with everybody's sweaty bodies pushing and colliding into each other. The effect, then, in an outdoor venue is not the same, but still fun.
The Max Levine Ensemble
's a band that played Tite Pockets quite often, but I never got the chance to see them. It's not the kind of thing I'd listen to more than 30 minutes of; nonetheless, their quirky pop-punk will sustain my house show love for a while.
At least until
Ian Mackaye
's pop band
The Evens
plays on July 31st! Never got a chance to see the legendary
Fugazi
, but I understand this new project of Mackaye's puts on a good live show.
FRIDAY
Tonight was by far my most anticipated concert of the summer:
Konono No. 1
, a 25-year old group from the Congo whose primary instrument is the
likembe
(a type of thumb piano) electrified by homemade amplifiers and very old megaphones. I've been a fan since early last year shortly after Dutch avant-punk band
The Ex
announced Konono's generally unknown existence. It's appropriate and unfortunate that the air conditioning broke at the
Black Cat
that evening ("It's like we're really in the Congo!" someone commented).
Chopteeth
, a local Afrobeat group, opened the evening to a excitedly responsive crowd. Still somewhat cooled by standing outside, all of the interns I convinced to come (Jamie, Sarah, Jeremy, Nathan, and Emilia) all danced hard. The band mixed originals with Fela Kuti covers, the father of Afrobeat. Chopteeth were a solid band, especially in the horn section whose heavy-hitting arrangements really pushed the rhythm.
We all went outside to catch our breath and thankfully there was a breeze. We hesitantly climbed the stairs of the Black Cat once again to see Konono and the stifling, smoke-filled heat was even stronger and more pungent than before. We managed to shake our tail feathers for twenty minutes of Konono's nearly droning, tribal (forgive the adjective) rhythms surging through the near-heat-stroked audience (sweat was no longer an issue as it all evaporated within minutes). I even managed to rip my good pair of jeans (I'm now down to two I can wear to work) in one-upping Sarah by busting a move on the floor. :) But for fear of heat exhaustion, we all left the venue around the same time and convenened outside to get some pizza nearby.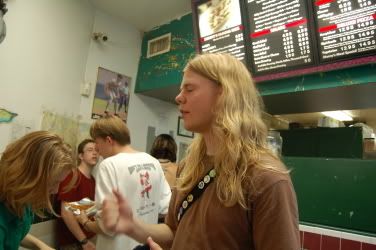 Even in my exhaustion, I manage to fist-pump.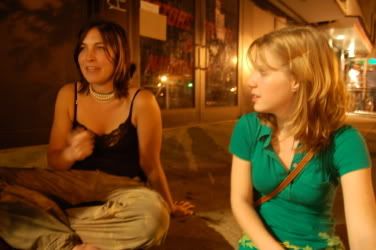 Jamie and Emilia.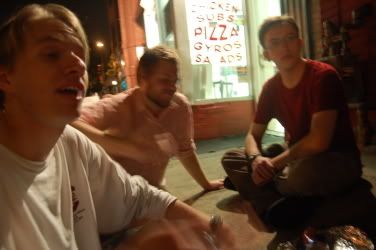 Jeremy, Jamey (sp?), and Nathan.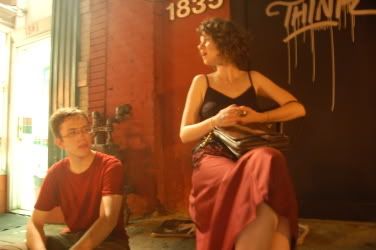 Nathan and the classically posed Sarah.