Lars... future karaoke star?
|current sounds|
The P.A. system at the 9:30 Club (lots of classic soul - Wilson Pickett at the moment)
I'm about to get two and a half hours of my hometown's finest Southern rock: Athens' own
The Drive-By Truckers
agreed to have their D.C. show
webcast live
. It'll be nice to see some familiar faces including my old Live in the Lobby sound engineer Brian Spett, who's been a roadie for the band a while.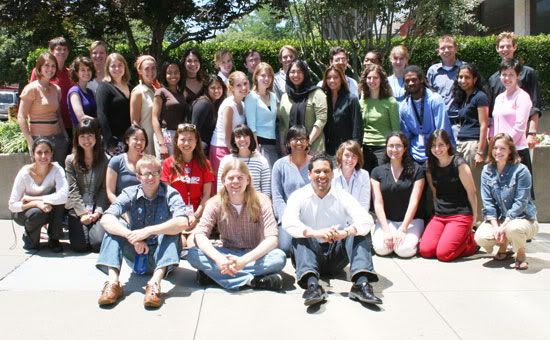 The extremely attractive 2006 NPR summer interns. Photo by Meghan Gallery.
It's been an exhausting week, actually, partially from work and mostly from lack of proper sleep. My living quarters, while convenient and having a great suite-mate who shares my love for
Project Runway
, are full of dust and mold. I have a tendency to become very weak-bodied and tired in such an environment. Thus, after celebrating the launch of the
Intern Edition
website yesterday (I selected the music for the promotional video: Phoenix, Old Time Relijun, The Pipettes, and then Jeremy sequenced the end montage to the Smashing Pumpkins), I went straight home to crash and watch TV, talk to Helen, and sleep until 11 this morning.
A former WUOG alum e-mailed the listserv this past week to get D.C.-area WUOGgers to meet up at a bar off U Street this past Thursday. It was great to see Nina and Matt again both of whom I knew as I first joined the station as a sophomore (actually, it was Nina who encouraged me to join at the end of my freshman year), but the rest of the folks (about ten total) were all alumni from the '80s and mid-'90s. Cool and somewhat telling to find out that all of them were involved in radio in some capacity. One in particular wants me to visit him at
Voice of America
, which broadcasts news, informational, educational, and cultural programs all over the world.
Afterward, Nina, Matt, Laura, and I went out and now I am a believer in the power of karaoke. I never did karaoke in Athens despite the popularity of Foxz (much to my friends chagrin). Nina and Matt busted out "The Thong Song" and Laura went solo on "Hearttaker." I was mighty tempted to try my hand at "What A Fool Believes," but I'm going to reserve that for my next visit... and there will be one.