I'm famous!
|current sounds|
The Hidden Cameras-
Awoo
("Hump from Bending" is a stroke of pop genius) & Starflyer 59-
I Win
First off, I should mention that my name has been podcasted over the internet-waves by All Songs Considered host (and one of my bosses) Bob Boilen. I was in Bob's car on the way to record a concert a few weeks ago and I was telling him how my friends Phillip, Zach, and I had all really gotten into the '70s Brazilian psychedelic albums that had been reissued lately on
Shadoks
and
Time-Lag
. He told me to get some of it for the show in which I quickly and enthusiastically e-mailed Nemo at Time-Lag for the new
Lula Cortes
reissue. Nemo said it wouldn't be ready until September, but wanted to send a copy of
Satwa
's self-titled 1973 psych-folk masterpiece as well as the
Marconi Notaro
reissue. Bob came to me a few days later gushing over Satwa's raga-like sitar and 12-string guitar jams. So on
All Songs Considered: Episode 115
, Bob mentions my name in the introduction the Satwa track. Sweet.
And now, the week in review...
TUESDAY,
After some sushi (this, my second try with sushi, went better, but I'm still not crazy about it), a group of the interns headed over the
Warehouse Theater
for the
Hear Now
series, which is a group of indepedent producers and sound engineers that share their latest audio pieces every few months. I am particularly fascinated with the ordering (or un-ordering) of sound, especially field recordings; naturally, I was enthralled and hung over every word spoken by
Flawn Williams
, an audio engineer for NPR/National Geographic's
Radio Expeditions
. The audio stories that he crafted from field recordings were beautifully rich in texturally evocative sound: specialized mics to capture the vibrations of a bug that communicates through plant stems, week-long drunken revelries celebrated with song and drum, and a 60 second version of
King Kong
.
My interest comes from the late night racket I would make on
Crisis!
, a two hour program on WUOG that showcased one of three things: 1) avant-garde and noise music, 2) live free-jazz/psychedelic/noise made by local musicians, or 3) improvisational audio collages. My friend Winston really got me into the third aspect of the show in which we'd layer spoken word records with ambient, jazz, or easily recognizable popular recordings to recontextualize the sound. Often we'd spin records backwards at speeds no turntable needle can normally withstand and put everything through mixing board effects, etc. etc.
To hear such professional sound architects share their work and explain microphone techniques and excerises was a great opportunity and just adds to my list of dream-jobs. Heather S., whose intern position escapes me right now, took notes (I had no pen or paper), so I'll be grabbing those from her.
FRIDAY, 7/7
Sarah and I left work with her National Desk friend Jack to hear
jazz at the Sculpture Garden
. The musicians they have play every Friday evening are never anything spectacular, but, as I've said, good enough to drink wine and eat cheese to. We partook in neither wine nor cheese, but just enjoyed the laid-back atmosphere and walked around the garden.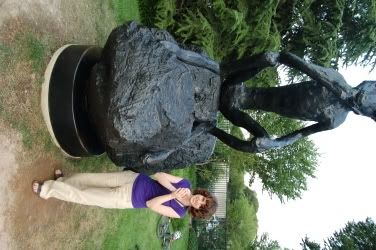 Sarah with
Thinker on a Rock
by Barry Flanagan.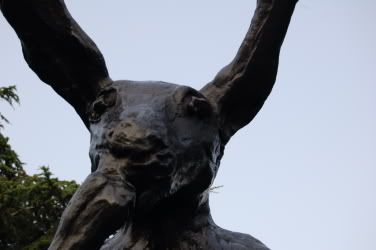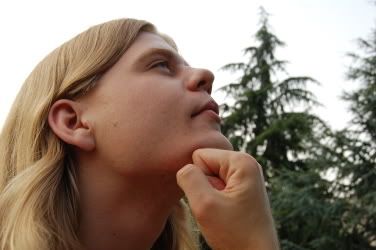 Myself pondering
Thinker on a Rock
. Meta like feta.
We (now Jack-less) stopped by the National Mall for the
New Orleans portion of this summer's Folklife Festival
. We caught some of
The Hot 8 Brass Band
's excellent set. The group was really solid playing a mixture of traditional New Orleans jazz, Dixieland, and even a little Fela Kuti-influenced Afrobeat. If we had had more energy, both of us would've been dancing with the folks really getting into it near the stage.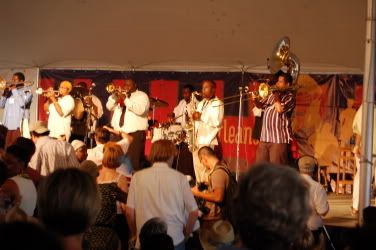 The Hot 8 Brass Band @ the Smithsonian Folklife Festival
A stop at diner, a game of late night croquet, and many episodes of
Arrested Development
later (now with Johnny and David, two of Sarah's Yale friends), I got home very late and just want to do laundry and maybe take advantage of the "Fajita Orgy" at Tortilla Coast right across the street.
And for those interested, there's a well-done interview
with Kieran Hebden (Fourtet, Fridge, Steve Reid's musical sparring partner) over at Dusted Magazine
. Kieran has some great things to say about improvised and composed music.