Zombie On a Rainbow, Esq.
|current sounds|
Estonian Philharmonic Chamber Choir-
Rachmaninov: All-Night Vigil op.37
(this album is absolutely stunning)
I have finally mastered rice. This may seem like a grossly simple task to overcome, but ever since I moved off-campus at UGA to persue the illustrious life of a college (and now, post-undergrad) bachelor, I have never been able to cook rice. It's either burned or sloshed. Mix it with soy sauce for a stir-fry and the meal's a horrible disaster.
Tonight, I conquered no-name brand white rice. Tomorrow, I shall slay dragons. It's a natural progression.
NPR offers a neat (am I the only 23 year old who says, "neat"?) opportunity through
Next Generation Radio
called "Intern Edition." It allows NPR interns to fully develop, write, produce, promote, and sequence their own 60-minute program that's aired via podcast for the company and the online audience. I chose to produce someone's piece because I wanted to do something other than writing for this internship (plus I'm fascinated with collecting and ordering sound).
Today, Michael (Music Unit, Performance Today) and I took a train to Baltimore, Maryland to interview
Tim Page
, a Pulitzer Prize winning music critic with the
Washington Post
. Without going into much detail about Michael's piece, we spoke with him about music criticism in the 21st century in relationship to the internet and the "blog" phenomenon. Tim turned out to be a great interview subject and seemed genuinely excited by offering his expertise to two prospective journlists.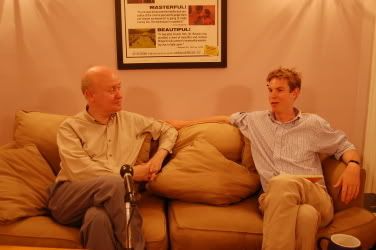 Tim Page (left), Michael (right).
For our rock n roll brethren in Manhattan, the Bowery Ballroom will be hosting the
US Air Guitar Championships
finals tomorrow night. The sold-out show will feature none other than Athens, Georgia's own air guitar (and real guitar) god Jace Bartet, AKA Zombie On a Rainbow, Esq. There is no doubt in my viking mind that my hair-swinging equal shall blast through cement walls with his air-ness. Need proof? Two short videos of Jace rocking out Slayer's "Reign in Blood":
Go forth, Jace, and rule as a Zombie should on a rainbow, esquired.