Theodor Adorno had safety pins in his fedora
|current sounds|
West Wing
on the tee-vee & Brian J. Davis "Every Work of Art is an Uncomitted Crime" from the
Minima Moralia EP
(download the whole EP
here
. Best punk record ever put out by an art snob.)
Michael, Jamie, Nathan, and I all went to Georgetown Sunday afternoon for some lunch at
Pizzeria Paradiso
. It took us an hour to find such a place since three quarters of Georgetown is too expensive for lowly paid interns (makes you think about the fact that Georgetown is the only area of D.C. without an accessible metro stop, right?).
Here we are practicing our interviewing skills for our upcoming
Intern Edition
stories (
link to last year's program
).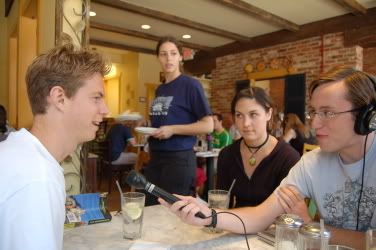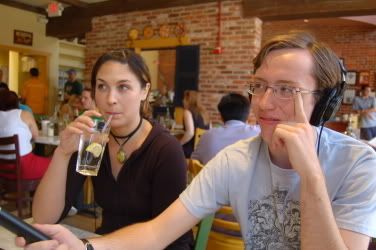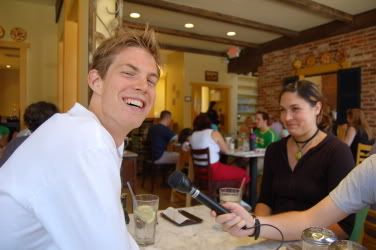 Michael, our fearlessly fake interview subject, sang French arias and shared a story of foreign affairs... the romantic kind.
Afterwards, three of us saw
A Prairie Home Companion
, the nerdiest of films for three National Public Radio interns to attend. Robert Altman really was the perfect man to direct. Both Garrison Keillor and Altman have such a unique sense of fantasy that skeeters on reality that skims off another fantasy. Most people would call that pretentious and they'd be partly right, but I think the best art is the kind that's not necessarily easily recognizable. Altman captures that beautifully. It'll probably be my favorite movie of the year.
A high-end dog food company used "I Think I Need A New Heart" by the Magnetic Fields in a commercial. I find this quite amusing. Great song, though.
New season of
Project Runway
on July 12. Heck, yeah.