Did I say daughter? I meant Octopus!
|current sounds|
Ali Farka Toure-
Savane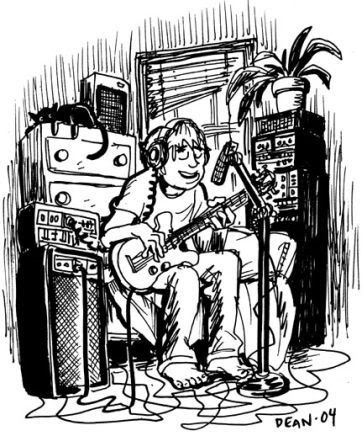 I read the Athens alternative weekly paper
Flagpole
less and less these days (slowly converting to the
Washington City Paper
), but I do head over to the website every now and again to catch up on Athens music gossip via Gordon Lamb's "Threats & Promises." More importantly, though, I make sure I read the new
Patrick Dean
Big Deal
comic. I was sore to learn today that
this past week's strip
will be his last for
Flagpole
.
For the past nine years, Dean has pen and inked the up-until-recently third page comic (how
Flagpole
could ever think to stick him in the back with the passable "local comix" page I'll never understand). Admittedly, I didn't like Dean at first. I remember the first semester of my freshman year at UGA when Laura came running up to our group of friends at Blue Sky Coffee (RIP) exclaiming, "This week's comic is
genius
!" All that I can remember is something about the College Avenue four-faced clock battling some kind of monster and looking at Laura with my patented "You're an idiot" face. Gradually, Dean grew on me and every week his absurd humor became something of an obsession. Who knows where came up with characters like the Hillbilly Yeti or a college-educated Frankenstein pretending to be stupid just to make the acquaintence of a prestigious Ivy League professor? Dean rarely repeated characters or extended situations (though he loved to tease his readers with "Next week on..." end tags), which could make for a dizzying experience if all his strips were read in one sitting, but I'd still buy an anthology in a heartbeat (hear that,
Flagpole
? Hill Street Press?). Heck, I even bought one of Dean's prints at
Bizzaro Wuxtry
that featured some train-robber looking guy with mosquito wings (unfortunately, it currently sits in my parent's basement - so many things my little station wagon couldn't contain).
I think Dean still has plans to continue his comics or at least that's what his
blog
leads me to believe. I have too many favorite strips to list here, so check out his website and that blog to scroll through some more recent material.
Oh, okay, here's a
classic
.