The former NPR interns take over Columbia Heights! Locals stunned and amazed.
|current sounds|
The Cramps-
Songs the Lord Taught Us
Welcome to the new abode in the Columbia Heights/Petworth area! It took a few days to get everything moved in mostly because I always take my sweet time when it comes to settling into a new place. I rented a pickup truck from
Zipcar
for a total of $75, which is a heckuva deal considering U-Haul is nearly 3 or 4x as much, to get the bigger items transported from Capitol Hill (muchos gracias to Nicole for the help). Jamie and Nicole are moved in, Sarah should stake her claim in the next day or two, and mystery roommate Remle (a cohort of Sarah's) comes in two weeks.
Now the tour...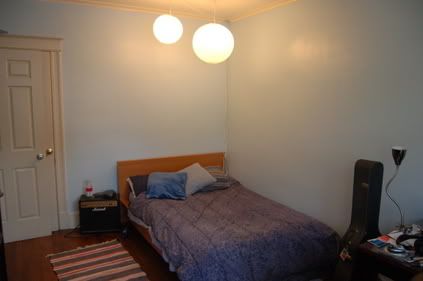 Erik, my subletter and owner of
Lujo Records
, is getting married soon and didn't need some of his furniture, so he gave it to me! An Ikea bed.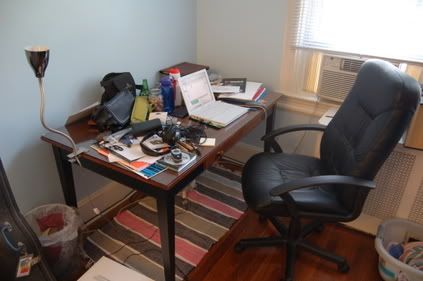 A swank desk (I bought the Ikea leather chair yesterday off Craigslist for cheap... of course got lost on the way to Arlington, VA doing so).
And this great shelving unit currently holding clothes, records, books, cassettes, and sound system (how I've missed you, turntable, this summer).
Instead of clogging the blog (that sounds downright nasty) with photos, know that our place has two floors and a basement apartment (complete with full kitchen and bath). The main floor is quite spacious and will take some time to fill. Thankfully, the previous tenants left a big table for the dining room. The kitchen's narrow, but full of cabinet space for all five roommates.
Late Monday night after a
Trader Joe's
run (my life has new meaning), we ordered pizza from
Radius
(a great place Nicole and discovered on Mt. Pleasant) and drank
three-buck chuck
for our first dinner-on-the-floor.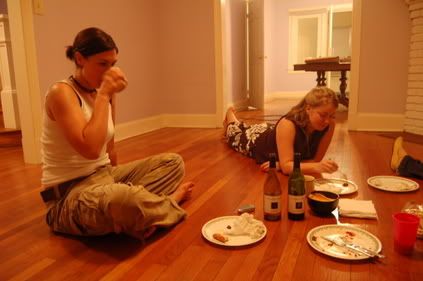 Jamie and Nicole.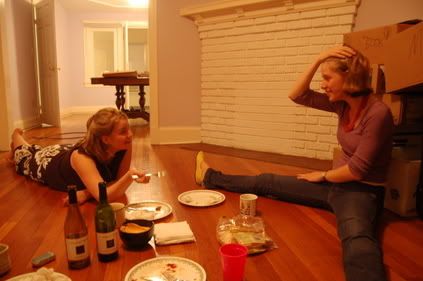 Nicole and Emilia, the latter who's not our roommate (though came close!), but doesn't live far away and will host tonight's
Project Runway
party.