Bjornicus
|current sounds|
Unwed Sailor-
The Marionette and the Music Box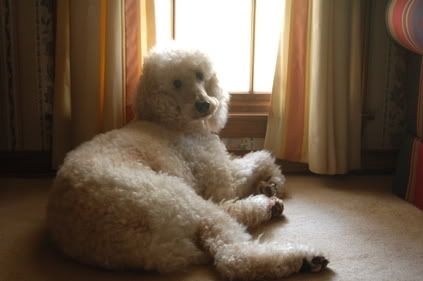 Poor Bjorn hasn't been his goofy self lately. Worms and arthritis, mostly the latter. He turns nine this December, so I suppose he's getting up there in age, but still sad to see him in pain. Thanks to medecine, he's in better spirits today and will perhaps maintain his puppy-like energy after massage therapy from my parents' neighbor, Alana. She's my brother's age and, I surmise, studied to be a masseuse this past year. Mom and Dad told her about his arthritis and one weekend while she pet-sat Bjorn, studied doggie muscles and gave Bjorn a massage. He was like a new canine! Alana's offered her services cheap, so we're trying to decide whether we want Bjorn to become dependent on these twice-a-month visits.
It's been nice to chill at home, get things ready for the move to D.C., but I'm definitely ready to put my life in motion in the Capitol. Spent a good amount of time converting eight mailcrates of CDs (picture below at the early stages of the project)...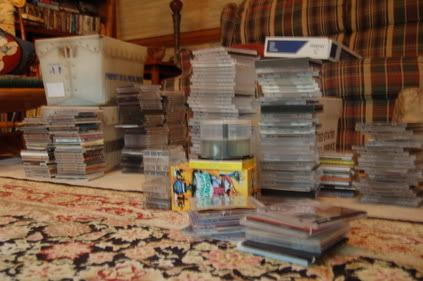 ... to three boxes.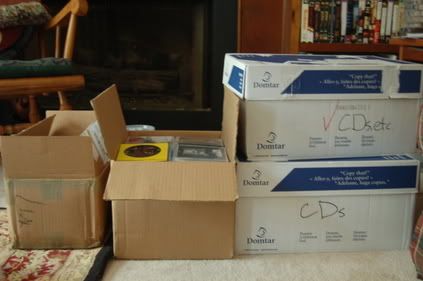 I did this through 1000
CD Gatefold Sleeves
from Bags Unlimited. I still have 200 sleeves left over, but keep in mind that I kept all digipaks, box sets, and specially packaged albums intact. Once I settle in, I'll send for some of their
plastic storage boxes
. It's going to make moving and space issues much easier.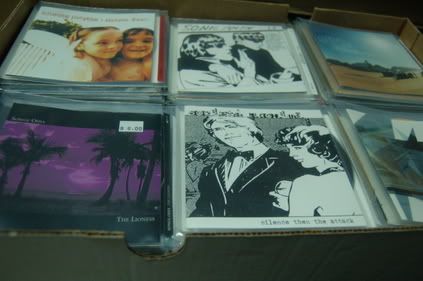 And for the heck of it,
a beautiful wash of flowing blonde hair!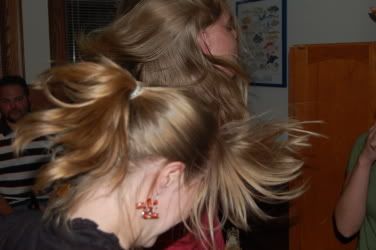 Emilia and Lars rocking out at the Boat.