A dirty joke about Liberace...
|current sounds|
Jefferson Airplane-
Surrealistic Pillow
I am now the current owner of this delightful Baldwin "Orga-Sonic" Organ!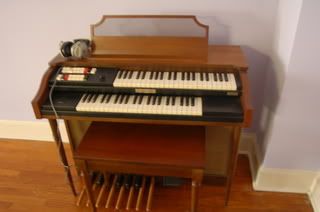 I'd been wanting some kind of junky/antique-y organ, keyboard, or synthesizer for quite some time now and came across this old beaut on Craigslist last Friday. Only $50, a steal, though it's a little temperamental. Nicole, bless her heart, drove out to Laurel, Maryland with me (got lost both ways, of course) to purchase the instrument from some retired Navy man. Nice guy, but didn't say the most PC things about the Mexicans currently living in his daughter's old residence. Example: "I'll sell the 'Spanics for a dollar!" *Pulls collar to side, makes Erin's patented awkward noise*
Speaking of noise, the
Warehouse Nextdoor
just announced their
Sonic Circuits DC
festival line-up for October. Four straight nights (and one afternoon) of broken electronics, harsh noise, humming drones, and EAI (some acronym for the more destructive or even more esoteric free-improvisation). I'm trying to get Phillip and Zach to come up (come on, Zachary, you can play and record on the new organ all you want!) and one my publications to get me a press pass.
Thur 5
Matterlink
Los Glissandinos
Koen Holtkamp
Queens
Scott Smallwood
Andy Hayleck
Ben Owen
BLK w/ BEAR
(in the Warehouse Next Door & Black Box Theatre)
8:30
Fri 6
Harvey Bainbridge (of Hawkwind!) w/ Spaceseed
Yellow Swans
Mouthus
Kohoutek
MoHa!
Robert van Heumann
USA-USB
SKIF++
(in the Warehouse Next Door & Black Box Theatre)
8:30
Sat 7
If, Bwana
Violet
Michael Gendreau
elmapi
Northern Machine
Jeff Carey
Office-(R)6
PHO
DB
(in the Warehouse Next Door & Black Box Theatre)
8:30
Sun 8
Phill Niblock
Mikroknytes
(in the Warehouse Big Theatre)
2:00
Sun 8
Wolf Eyes
John Wiese
Ovo
Mr. Natural
Harrius
Facemat
HZMT
Mat Weston & Tone Ghosting
(in the Warehouse Next Door & Black Box Theatre)