"You know where I learned to do my make-up? From the TV, yes I did!" (overheard in Wheeling, WV)
|current sounds|
Wolf Eyes with John Wiese-
Equinox
Of all the places to spend a weekend, Wheeling, West Virginia certainly isn't the highest on most lists. But every October, the Appalacian town is host to the regionally famous
Oglebay Fest
, a weekend full of arts-n-crafts shopping, livestock showings, beer, and drunken men playing German drinking songs (at least until 2PM when they've already had too much and let the CD player handle things). My roommate Jamie hails from Wheeling right on the West Virginia-Ohio border and invited some of us to join she and her aunt. Sarah, Emilia, and I still aren't exactly sure why we enthusiastically joined, but I'm sure it had something to do with just wanting to get out of the city for a couple of days.
Aside from the gorgeous drive through southern Pennsylvania with leaves starting to change fall colors and generally being in great company, I was definitely interested in just taking in the rich, cultural Americana of the festival. Kiddie tractor pulls, German-American accordian music, Pittsburg Steelers fanaticism, really big hair and excessive make-up, regional dialect - loved every second of it without irony. Too many people look at such a culture find nothing but humor in it and with good reason, I suppose (I am strong perpetuator in keeping nothing sacred), but this is a genuine way of living, and perhaps Appalacia possesses one of the few true "cultures" white folks, in particular, have.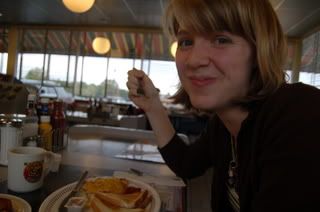 I squealed with joy when we pulled off for some late morning breakfast and found a Waffle House, the first visit for Emilia (pictured) and Sarah. Now that's a happy face!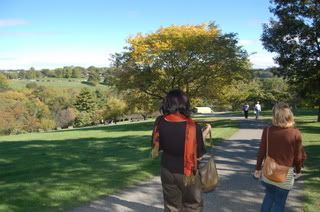 The beautiful Oglebay Festival grounds.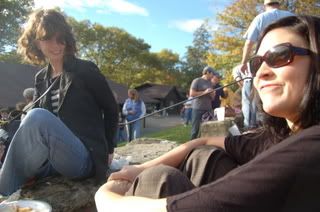 Sarah and Jamie enjoying German sausage and a dark ale.
I'm never in my own photos. My camera is large and intimidating.